Manchester Pride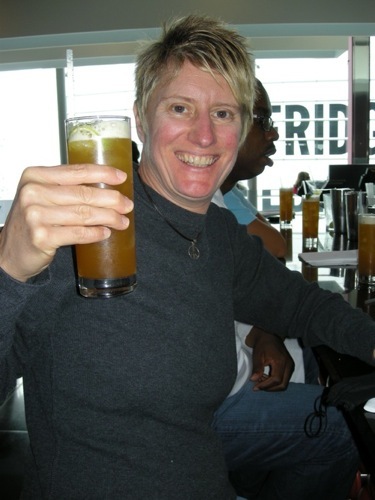 I don't know whose idea it was to take a cocktail mixing class at 10:30 am. I don't normally drink before noon and rarely drink cocktails. But there I was, at Harvey Nichols, an upscale department store, sampling rum and vodka the morning of the Manchester Gay Pride Parade. After a few "Dark & Stormies" (rum, ginger beer, lime and a dash of soda—yum!) I found myself being ushered to the front of the parade. Our group of visiting Americans was invited to march with the Pride VIPs. Tipsy.

So, I must admit, that I had one of my best times at a gay pride event ever in Manchester. But the alcohol was only a little part of that. The people of Manchester, a working class town in the northwest of England, love their Gay Pride. In fact, Manchester Pride was voted "Best Event" at the 2009 Manchester Tourism Awards and Best Pride Event in the UK by the national gay newspaper – Pink Paper.

It seemed like the entire city came out to watch the festivities. Ladies who looked like they walked straight out of a British comedy, standing next to punk rock teenagers and families with kids in tow all lined the parade route, cheering us, and the 90 other floats entered in the parade.

After marching for a while, I stepped out and watched the rest of the parade go by. I was amazed at how un-jaded everyone was, truly enjoying the floats of double-decker buses, buff guys riding spinning bikes and homo heroes on parade. Everyone seemed to be having a genuine good time.

I knew two things about Manchester before I went. It's the home of Manchester United Football (soccer) and the British version of Queer as Folk was filmed there. Since I couldn't score football tickets, (it's the most popular team in the world) I rented the first season of QAF to get ready. I was excited to visit Canal Street and the gay village where much of the QAF action takes place.

The gay village in Manchester is insular and dreamy. You could spend a week and rarely venture outside its confines. The streets are lined with pubs, clubs and restaurants, many with outdoor seating. Men and women seem to be about in equal numbers.

There are two women's clubs. Vanilla, a welcoming bar, perfect for hanging out after work with a beer and Coyote's, which caters to a slightly younger, hipper crowd. Taurus, a mixed bar, was the friendliest pub on the block, with a great diversity of patrons.

During Pride Week, the Village is packed with partiers from all over England. For the weekend, it is gated and you need a wrist band to get in. A main stage is set up at one end with top notch entertainment. In 2009 Bananarama, Little Boots and The Human League played. Pink is rumored to be on board for 2010.

On Sunday, part of the festival is closed off for Women's Space, a trans-friendly women-only concert and chill out zone, with no men allowed. As I walked through the gates, I saw a man arguing with security about not being allowed in. I couldn't imagine a US pride festival with a such a space.

As lovely as it is, of course, I spent time outside of the Village. The Castlefield neighborhood highlights Manchester's canals and houses some of the nicer restaurants. The Royal Exchange theater is worth a visit, just to check out the architecture of the former cotton exchange building. Friday happy hours feature free entertainment and cheap drinks.

I took a gay walking tour with "Out in the Past" and learned about Manchester's history, including it's most famous gay resident Alan Turing, a mathematical genius and WWII code-breaker who later killed himself rather than be subjected to anti-gay therapy.

Manchester is just a 45-minute train ride to Liverpool, birthplace of the Beatles. I didn't come all the way across the ocean, not to make that pilgrimage. The Beatle's Story, a short cab ride from the train station on Albert Dock has a few cool mementos, but is kind of hokey. I much more enjoyed visiting The Cavern Club where the Beatles played, because it felt more authentic and I could imagine the Fab Four rocking out in the tiny, dark venue, even though it has been moved from it's original location.

Back at the Pride Festival, I was glad to have access to the VIP area (available for purchase), a raised platform with a place to escape the huge crowds and retreat during the frequent rainstorms. You can pay 20 pounds to attend one of several women's dance parties, but I had more fun bouncing between the free clubs and pubs on Canal Street.

The weekend closes with a candlelight AIDS vigil, a moving memorial that sobers the crowd and reminds them Manchester Pride raises thousands of pounds each year for AIDS and other charities.

Centralia: Meeting romance halfway in Centralia
Published in The Oregonian Feb 12, 2012

When I received the flirtatious note on an online dating site, my first reaction was, "You're adorable, but you live in Seattle."

Then again, I hadn't had the best of luck dating locally, so why not give it a shot? That's how I found myself driving up to Centralia, Wash., one rainy, windy night, on my way to a date with "Sunless in Seattle."

When you think of romantic destinations in the Pacific Northwest, Centralia is hardly the first place that comes to mind. But for long-distance dating between Portland and Seattle, the historic town has quite a few spots where couples can create sweet memories...keep reading.